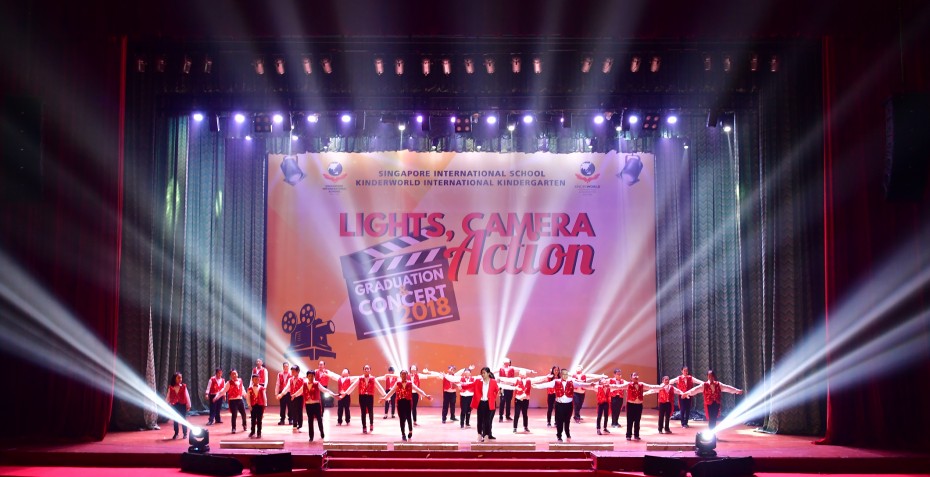 The Graduation and School Concert 2018 was officially held by teachers and students of Singapore International School @ Danang at Trung Vuong Theatre in the evening of 20 June 2018.
 The Ceremony marked the growth and development of Kindergarten students, who have been well equipped for the next school step at Primary level. On this occasion, students with excellent academic achievement were awarded and praised, presenting the very first priority of KinderWorld with a focus on great teaching in the classrooms over the last years.
The exciting changes in the education and training was also stated by Mr Peter Baker, Education Director of KinderWorld Education Group during the Ceremony. Firstly, the Outward Bound courses will be applied to build a range of personal qualities and soft skills that will add to each student's capacity and future success. Besides that, to help KinderWorld students prepare for the future, STEM activities, including robotics and coding, will be included in classroom programmes and provided as After School Clubs throughout the school year of 2018-2019.
With the Theme "Lights, Camera & Action", this year performances had a lot of changes and improvement, showing the freshness and professionalism. Students confidently performed in a range of colorful costumes, recalling such fantastic movies as Star War, Kung-fu Panda, Lion King, Black Panther, Beauty and the Beast, and so on.
 Let's see some of such exciting performances!