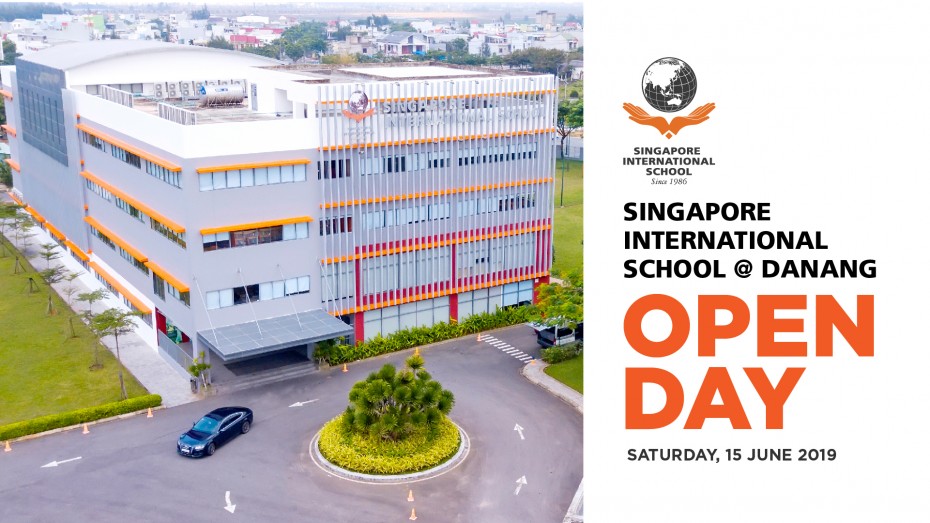 Join us at the Event that has been longed for this summer with a number of interesting and special activities:
☑ Experiencing ACADEMIC CONTENT via such lessons in exciting English, or Creative STEM activities
☑ Taking part in ENTERTAINMENT Activities, including Water play and Swimming, Art & Craft, Sport dance
☑ Participating in such NATURE Activities as tree planning.
Special Note:
☑ SUPER ATTRACTIVE PREFERENTIAL RATE up to 10% of Tuition Fee and Complementary Admission * for the INTERNATIONAL KINDERGARTEN Program
*Conditions apply
In the School Year 2019 – 2020, in addition to enrolment for Integrated Kindergarten and other higher levels, Singapore International School in Danang officially enrolls INTERNATIONAL KINDERGARTEN programme for children from 3 to 5 years old.  The programme at KinderWorld International Kindergarten highlights with:
Western Teaching Methodologies ● Purposeful Play ● Well-structured Explicit Teaching
100% ENGLISH ENVIRONMENT helps children develop multilingual skills
Adopt a rigorous preschool education programme with the motto "LEARN TO PLAY – PLAY TO LEARN" to comprehensively develop children in the areas of Language, Arithmetic, Movement, Art, Ethics and so on.
5-STAR FACILITIES with modern classrooms, library, music room, art room, multi-media room, multi-purpose hall, and Maker Space (STEM)
Practical PICNIC helps children develop independence and responsibility
Outdoor and gardening activities help children develop soft skills and orient them to love nature and motherhood from an early age
Foreign teachers with INTERNATIONAL QUALIFICATIONS, experienced and regularly trained.
⏩ FREE REGISTRATION at comment or link: https://tinyurl.com/y4knfc7o
Time: 9:00AM – 11:00AM, 15 June 2019
Add: Singapore International School, Vung Trung 3 Street, Phu My An New Urban Area, Hoa Hai ward, Ngu Hanh Son district, Danang City
Hotline:    0236 7301 777
Email: enquiry@danang.sis.edu.vn
Website: www.danang.sis.edu.vn
= = =
"NGÀY HỘI TUYỂN SINH" năm học 2019 – 2020 của Trường Quốc tế Singapore tại Đà Nẵng.
Hãy cùng tham gia vào sự kiện được chờ đón trong dịp hè này với nhiều hoạt động hấp dẫn, đặc sắc:
☑ Góc HỌC THUẬT với lớp học tiếng Anh sôi động, các hoạt động sáng tạo STEM
☑ Góc VUI CHƠI với Nước, Hồ bơi, Làm thủ công hay Nhảy thể thao
☑ Góc THIÊN NHIÊN với hoạt động trồng cây
Đặc biệt:
☑ ƯU ĐÃI SIÊU HẤP DẪN tới 10% học phí và miễn phí nhập học* cho chương trình MẪU GIÁO QUỐC TẾ
*Áp dụng có điều kiện
Năm học 2019 – 2020, bên cạnh tuyển sinh các chương trình học Mẫu giáo Hội nhập và các cấp học lớn hơn, Trường Quốc tế Singapore tại Đà Nẵng chính thức tuyển sinh bậc MẦM NON QUỐC TẾ cho trẻ từ 3– 5 tuổi.
Chương trình tại Trường Mẫu Giáo Quốc tế KinderWorld nổi bật với:
Mô hình giáo dục phương Tây – Học và chơi có chủ đích – Phương pháp dạy học rõ ràng
MÔI TRƯỜNG HỌC 100% TIẾNG ANH giúp trẻ phát triển khả năng đa ngôn ngữ
Áp dụng chương trình giáo dục mầm non chặt chẽ với phương châm "HỌC MÀ CHƠI – CHƠI MÀ HỌC" giúp trẻ phát triển toàn diện trong các lĩnh vực: Ngôn ngữ, Số học, Vận động, Nghệ thuật, Đạo đức…
CƠ SỞ VẬT CHẤT 5 SAO với hệ thống phòng học hiện đại, thư viện, phòng âm nhạc, phòng nghệ thuật, phòng học máy tính, hội trường đa chức năng, phòng học Sáng tạo (STEM)…
Chương trình DÃ NGOẠI thực tế giúp trẻ phát triển tính tự lập và trách nhiệm
Hoạt động sân trời, làm vườn giúp trẻ phát triển các kỹ năng mềm và định hướng trẻ yêu thiên nhiên đất mẹ từ thuở nhỏ.
Đội ngũ giáo viên nước ngoài có bằng cấp theo CHUẨN QUỐC TẾ, giàu kinh nghiệm và được đào tạo chuyên môn thường xuyên
⏩ ĐĂNG KÝ MIỄN PHÍ tại bình luận hoặc qua link: https://tinyurl.com/y4knfc7o
Thời gian: 9h00 – 11h00 ngày 15/06/2019
Địa điểm: Trường Quốc tế Singapore, Đường Vùng Trung 3, Khu Đô thị mới Phú Mỹ An, P. Hòa Hải, Q. Ngũ Hành Sơn, TP. Đà Nẵng
Hotline:    0236 7301 777
Email: enquiry@danang.sis.edu.vn
Website: www.danang.sis.edu.vn